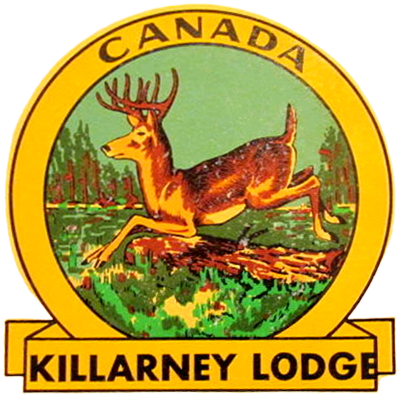 Forty years… really?
Yes it has that long since Eric met the then owner of Killarney Lodge who jokingly said to Eric, "Why don't you buy the Lodge!" But over coffee, Eric decided to purchase the lodge and go all in with the challenge of running a wilderness resort.

Like the lodge founder Bert Moore, Eric was a city boy who answered the call of the wilds. Read more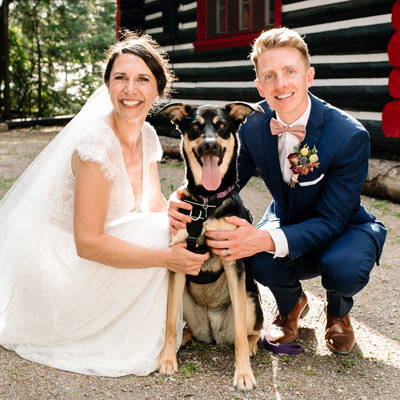 A Killarney Lodge wedding
Driving all the way to Ontario to get married when you live in Whistler BC might seem unusual, but when your dad runs a Lodge you grew up in and the groom is an Ontario guy, it begins to make sense.

Charlotte and Andrew did just this, filling the car with luggage, wedding outfits and the dog before heading East for the celebration in July. Read more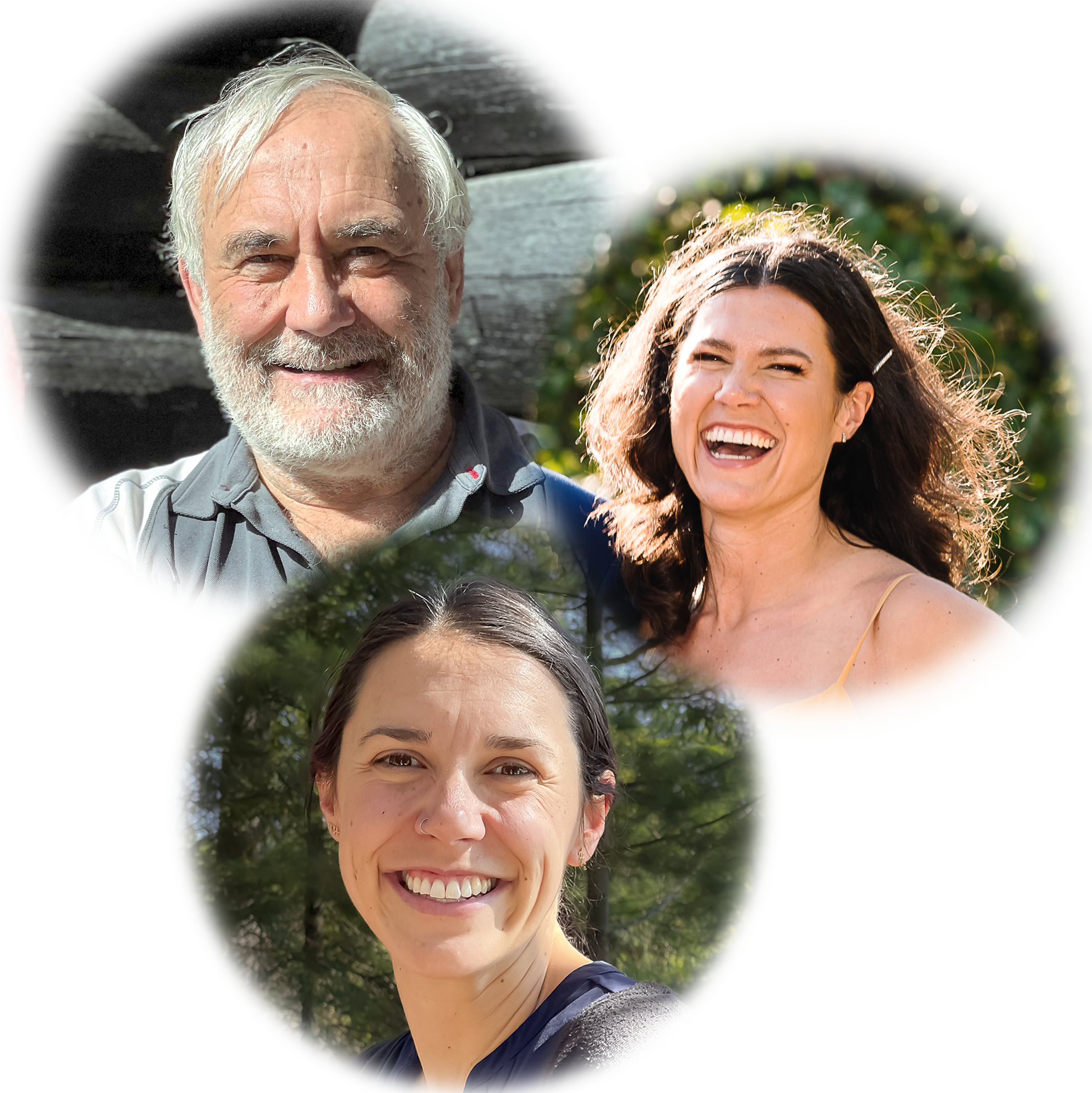 Stepping back; stepping up.
After forty years, Eric is gradually withdrawing into the background with daughters Charlotte and Alexandra spending longer spells here, learning the ropes and stepping up responsibilities alongside the ever reliable Ramona Johnson as manager.
This season, you'll see more of the daughters as the torch is passed down the family line. Read more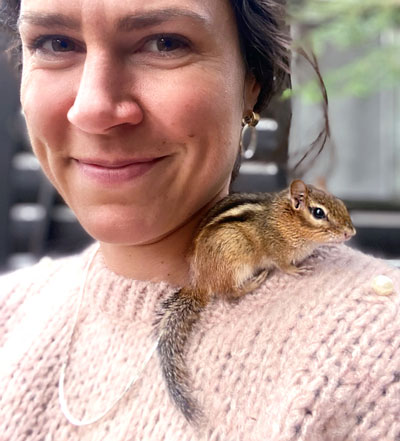 Furry animal rescue
A guest noticed an injured young chipmunk and brought it to Alexandra who swung into nurse mode. Now named Smushey, the little one was wrapped up, kept warm, watered and fed in its temporary office home.

As Smushey recovered, the furry one would run all over the office - and Alex... Read more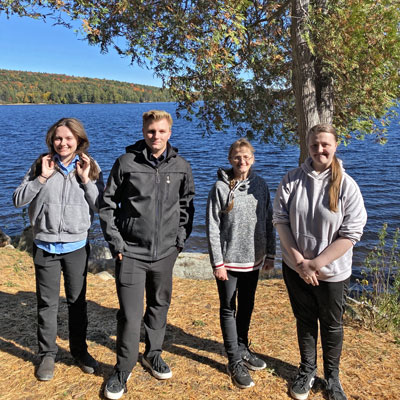 All in a staff family
It's apparent to guest new and returning that the relaxed and friendly atmosphere at Killarney Lodge is largely due to the great team who work at the lodge, seen or unseen.

Here's a family who take different roles to make visitors feel their needs are taken care of... Read more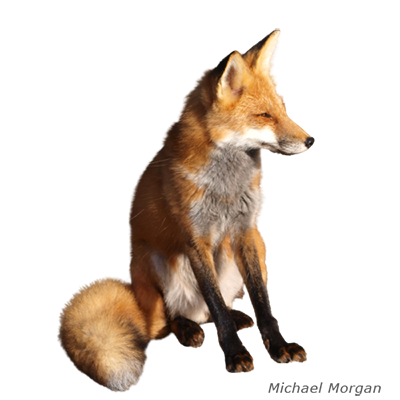 Quick as a fox? 65 kph quick!
These versatile animals roam Algonquin Park, and much of the world.
Agile with long limbs they range over large areas hunting in dim light using their vertically oriented pupils, sensitive whiskers, and acute senses to catch voles, mice, ducks and rabbits. They also eat insects, vegetation, carrion… and go through your city garbage! Read more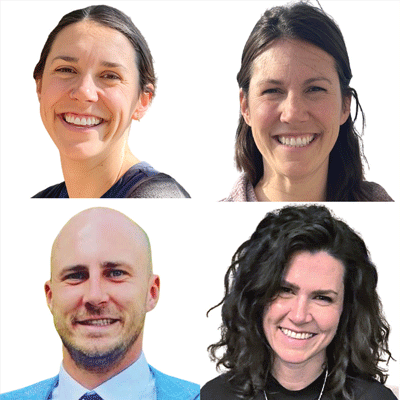 Family Miglin Updates
Alexandra and Charlotte are now on "double duty" at the Lodge. Charlotte commutes from Whistler, and Alexandra from Toronto.
Sam and Jon in Buffalo have their hands full with Grace's arrival making a compliment of 3 daughters.
Jonathan has a new place in Toronto and extends his specialty handyman service to sports celebrities. Read more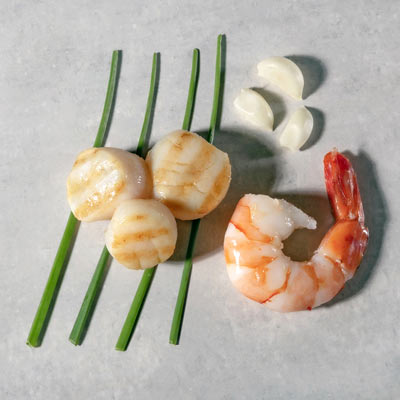 All the news that fits
… in the kitchen and more can be found on the 2023 newsletter.
Artist sketches, menu changes, a level kitchen, a stormy canoe story, a change of heart for Eric. Just ask!
All the 2023 news here.
All the news that fit before
Our previous newsletters can be found using the links below.